iOS 6.0 6.1 6.1.1 6.1.2 shsh Blobs
How to download/save a VALID iOS 6 shsh blob for iPhone 4 or 3GS
This page is for you if:

You previously only had your iOS 6 SHSH blobs saved on Cydia, which have been declared unusablefor restore purposes

You are currently running iOS 6.1.2, 6.1.1, 6.1, or 6.0 on iPhone 4 or 3GS

You want to save an SHSH blob of your current iOS to be able to restore to it
Yes, it is still possible for you to download/save a valid (usable) iOS 6 blob, assuming you are currently using iOS 6.1.2 or below on your iPhone 4 or 3GS right now.

As you may have heard iOS 6 blobs saved on Cydia are not usable for you to downgrade or restore to iOS 6, which was unfortunate news. Read the original post here: http://www.saurik.com/id/15

However, not many people seemed to have noticed that buried in the final paragraph of that lengthy post was the following (abbreviated):
What does this mean for me now?
[...]
Secondly, for the remaining 25.8% of Cydia users for which cached iOS 6 APTickets could be useful, by far the primary purpose is to restore or otherwise recover the version of iOS you are currently running untethered.
In either of these two use cases, the alternative to an APTicket exploit is to upgrade to iOS 6.1.3 ... but the result will not be an untethered jailbreak: many users (including myself) really hate using tethered jailbreaks.
[...]
Thankfully, this situation is actually fairly easily solved: redsn0w has the ability to dump the full TSS information from a device (also using that same limera1n exploit). I thereby encourage users of devices capable of being exploited by limera1n (the iPhone 3G[S], iPhone 4, or 4th generation iPod touch) to download this tool right now and use it to upload complete TSS information.
Essentially, what saurik is saying is that if you are currently running an untethered jailbreak on iOS 6, and you wanted to have an SHSH blob to always be able to restore to that version,
you still can
. He goes on to recommend redsn0w to download your VALID blob that is saved on your device, but a note at the end of the post talks about how redsn0w is not quite ready, and recommends iFaith instead, so that's what this tutorial is based on.
Proceed at your own risk. I do not guarantee that following these steps will lead to a successful retrieval of your SHSH Blob and I am not responsible for any damage caused to your phone. This information is intended for educational purposes only.
Tools Required

iPhone 4, 3GS running on iOS 6.0, 6.1, 6.1.1 or 6.1.2
1. Run iFaith in Administrator Mode
To run iFaith in Administrator Mode, download iFaith and right click on it, then choose 'Run as Administrator'.
2. Select Dump SHSH Blobs on the top right.
3. Put iPhone in Pwned DFU Mode and Save SHSH Blob

After pressing proceed a few times, you should get to the following screen. Hit Start, and follow the instructions to put your phone into Pwned DFU Mode. iFaith will take care of the rest once your phone is in Pwned DFU Mode, and proceed to download your SHSH Blob. You just need to pick a location to save it.

4. Test the Validity of your SHSH Blob with iFaith

Once downloaded, you can use iFaith to test the validity of your SHSH Blob. Go back to the Main Menu in iFaith and choose 'Build *signed* IPSW w/ Blobs'.
Hit the 'Browse for SHSH Blobs' Button and select the blob you saved with iFaith.
If the blob is valid you should see the following:
If you have an iOS 6 blob you saved from Cydia, try putting it into iFaith and you should notice that it tells you the apticket is invalid and prevents you from proceeding to the next step:
If your APTicket is valid, iFaith will allow you to move onto the next step, which is to select an IPSW for restore.

DONE!

1.5 billion YouTube views later, Dude Perfect is back with the most epic trick shot challenge yet! Go BIGGER than ever hitting mind. You want the good news first? If you have an iPhone 4, a computer running Windows, and you have saved your SHSH blobs in the past for 6.1.3 or earlier, then there is a way back to iOS 6. IOS 14 features reimagined iconic phone experiences, updates to the apps you use every day, all-new App Clips, new privacy measures, and more. Sep 19, 2012 There are two paths for upgrading your current iPhone to iOS 6: over the air or through iTunes.
Some users want to downgrade iPhone 4 from iOS7 to iOS6, but Apple has closed its signing. Actually iPhone 4 with SHSH backup can be downgraded to any compatible firmware using 3uTools. But what should you do without SHSH backup? This tutorial can guide you to downgrade iPhone 4 to iOS6.1.3 without SHSH blobs.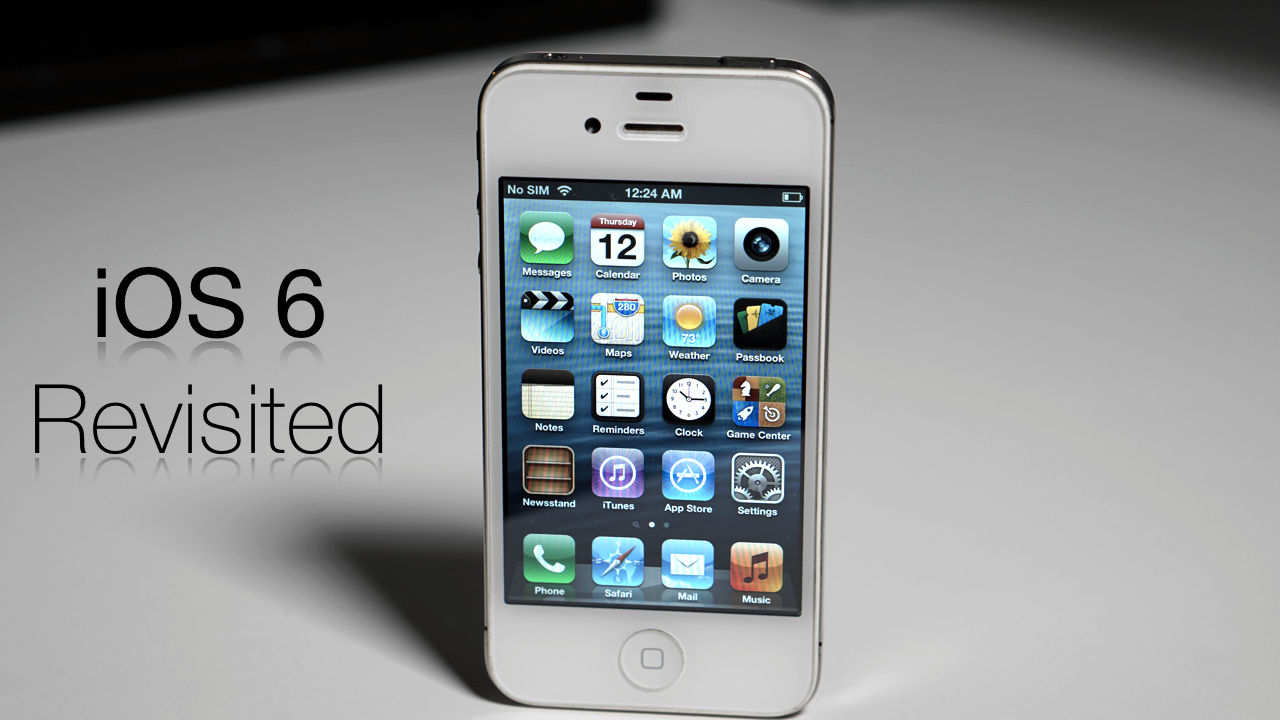 Why iOS6.1.3? Because 3uTools Pro Flash supports iOS6.1.3 flash without SHSH blobs, and provides the "forced iOS downgrade".
Please note that after the forced downgrade, you should use "3uTools tethered boot" to start your iPhone after it's turned off.
Notes before downgrade:
Please backup your phone data before downgrade.

Turn off "Find My iPhone" , or you'll need to use Apple ID to activate your iPhone after flash.

Download the latest 3uTools.

The iDevice will have no service after you force downgrade, because it skips the activation step. When you upgrade back to iOS 7.1.2, the device will have service.

3uTools only supports to downgrade iPhone 3,1 (Product type).
Part A: iOS downgrade
Step 1. Connect your iPhone to PC, start 3uTools, click "Firmware" to download iOS6.1.3.
Step 2. After it's downloaded, click "Flash Jailbreak→Pro Flash→Select firmware " to import the firmware "iOS 6.1.3".
Step 3. Click "Flash now", ensure iPhone in DFU mode to begin flash. After it's failed to query SHSH for three times, 3uTools will show you the reminder of forced downgrade. Just click "Yes".
Step 4. Please wait till the iOS downgrade is finished.
Part B: Jailbreak and tethered boot
1. Currently your iPhone has been forcibly downgraded from iOS 7 to iOS 6.1.3 without SHSH blobs, but can't boot still. Then jailbreak iPhone in DFU mode, click "Flash Jailbreak→Jailbreak→iOS4.x/5.x jailbreak".
2. 3uTools will remind you that "Jailbreak is completed! The device is processing, please wait for another 3 to 8 minitues..."and at this moment your device will run a bunch of codes and pineapples.
3. Then your iPhone can't boot still. Please click "Advanced→Tethered root" to start up iPhone with guidence.
4. Start up and activate iPhone. Then your iDevice will run iOS6.1.3.
Part C: Install plugin "Insomania pro"
Now you can use iPhone normally. If it becomes unbootable after the screen is locked, you're supposed to install a plugin "Insomania pro" on Cydia.
You may add apt.so, and download the plugin "insomnia pro".
Ios 6 Yahoo
At this moment you can use your iphone normally, and you may use 3uTools"Tethered boot " to start up iPhone after each shutdown.
Ios6 Manual
Thanks for visiting. For more latest updates or supports, follow us on Facebook or Twitter.
Ios 6 Firmware Download
Related Articles